Sharp Delivers The World's First Convection Microwave Drawer Ovens. The SHARP Smart Convection Microwave Drawer™ Oven (SMD2499FS) is the most eagerly anticipated kitchen innovation by Sharp. The speed of sensor microwave cooking, combined with the flexibility of convection cooking, make the SMD2499FS the must-have luxury for your modern, smart home.
Elaborate Entertainment Made Simple
The dual convection fans and dedicated heating elements in the SMD2499FS provide turntable-free baking, roasting, grilling, and air frying. Bring a meal to the table even faster with three Speed Cook modes that mix convection and microwave heating for delicious results in less time.
Designed for your Dream Kitchen
Sharp's top-of-the-line 24″ Built-In Smart Convection Microwave Drawer Oven has been designed with discreet branding inside the hidden control panel to complement the widest range of kitchen styles and appliances. The sleek, low-profile design, edge-to-edge black glass, and stainless-steel finish beautifully complement any kitchen.
Hidden Control Panel
Easy-to-see and operate, the hidden control panel smoothly opens to a convenient 45° angle. The modern, touch glass panel wipes clean quickly and easily. The hidden control panel puts all of the controls at your fingertips when you need them, and out of sight when you don't.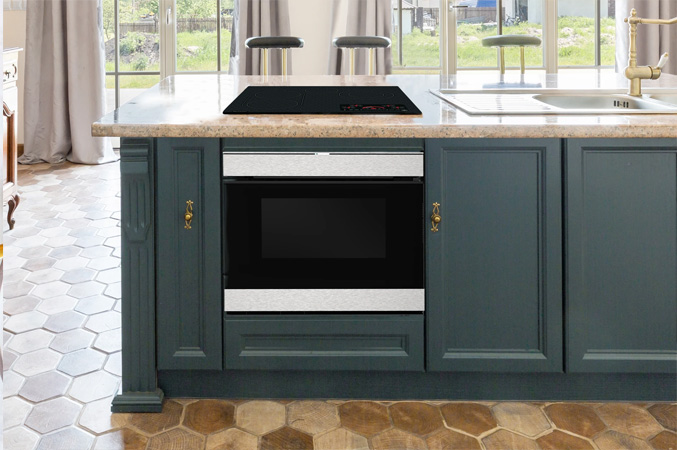 Convenient Placement Options
The SMD2499FS 24″ Built-In Smart Convection Microwave Drawer Oven offers flexible placement options below an island, peninsula, or standard cabinetry, or can be installed below your wall oven. The built-in airflow control allows flush-mounting while safely redirecting the ventilation away from walls or cabinets. With all of this power and flexibility, the SMD2499FS simply plugs into a standard 120V/15 amp household outlet for a fast installation. That is Simply Better Living.
Visit our showroom to learn more about Sharp products.