Cafe is a mass premium kitchen appliance brand that leads in design choice and performance. With Cafe, the choices are endless for your homeowners and tenants – The Customizable Professional Collection offers three finishes and four hardware options, while the Modern Glass Collection offers a sophisticated platinum glass finish.
PLATINUM GLASS FINISH
Like nothing you've seen before. Cafe offers the first glass appliance suite of kitchen appliances in its class. The finish exudes simplicity with its clean lines, integrated design and reflective glass overlay that creates an easy-to-clean, contemporary look for your kitchen.
MATTE WHITE FINISH
A bright, clean aesthetic that adds warmth and light. Most any kitchen comes alive with our Matte White appliances.
MATTE BLACK FINISH
A sleek, bold look to fit your style. Inspired by the natural darker tones of wood and stone, our matte black appliances make a statement in any kitchen. They stand out, crisp and bold against bright colors; or create a cohesive look next to darker tones.
STAINLESS STEEL FINISH
Keep your kitchen shining bright. Cafe offers a new approach to the kitchen staple of stainless appliances – classic, versatile and compatible with a variety of styles. The look of stainless never goes out of style.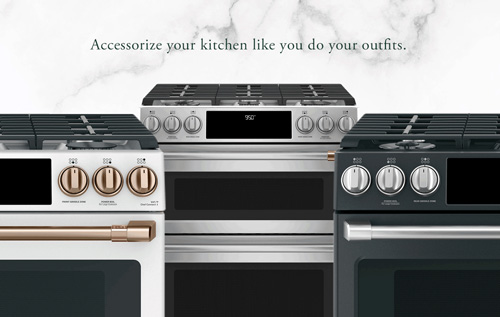 Visit our showroom to learn more about Café products.